The following is from Westby Racing…
Scholtz Strikes Gold, Wins Saturday's Superbike Race At Michelin Raceway Road Atlanta; Roach Finishes Eighth In Junior Cup
Just a little more than six months after suffering serious injuries to his right leg in a crash at Indianapolis Motor Speedway, Westby Racing's Mathew Scholtz notched the victory in Saturday's Superbike race one at Michelin Raceway Road Atlanta.
Mathew, who is from South Africa but now lives in the Atlanta, Georgia, area, considers Road Atlanta to be his home track. The proximity may have helped, but his and the team's off-season training and testing program were the biggest factors in getting the win, which is the third Superbike victory of his MotoAmerica career.
After getting the holeshot at the start, Mathew led every lap of the race except one. On lap 14, he was overtaken by Loris Baz, but "The Scholtz Kid" was determined to regain his position at the front. On Lap 15, he dove under Baz going into the turn 10A/10B chicane. Baz didn't brake until well after Mathew on the run down the back straight, then Mathew let off the brakes and both were in hot and wide, with Baz tucking the front and crashing. After Baz's unsuccessful challenge, Mathew managed his gap to the rest of the frontrunners and took the checkered flag by more than three seconds over second-place finisher Bobby Fong.
"I got off the (starting) line good for once, which kind of gave me confidence there," Mathew commented. "It is definitely harder than it has been through the Friday practice and the morning Q2. I was sliding more than I had been previously, so I kind of wanted somebody to actually pass me so I could latch onto them. Jake (Gagne) passed me and then, unfortunately, I think his engine popped. So, I kind of knew that the next guy would be (Loris) Baz. I looked back with a couple laps to go, and I saw Baz following, and that kind of scared me a little bit. So, I knew I had to pick up the pace. I could see that Baz was catching me slowly. He actually caught me a couple of laps sooner than what I thought, and I just knew that I had to pass him back as soon as I could."
Sunday's Superbike race two is at 3 p.m. ET and will be broadcast live on FOX Sports 2 (FS2), as well as streamed on MotoAmerica Live+.
In Junior Cup, Jack Roach's first event in Westby Racing colors netted him a fourth-row starting position and an eighth-place finish in Saturday's race. The results were certainly not what Jack had hoped for, and he is determined to get a higher finish in Sunday's race two.
"My race was not what I wanted," Jack said. "But I scored points, which was the main goal. Starting from 11th on the grid was not ideal, but I made it work to the best of my ability. For race two, I'm really nervous and excited, but I know that I've got the pace to contend for the podium."
Junior Cup race two is at 2 p.m. ET and will be broadcast via tape-delay on FOX Sports 2 (FS2) this Tuesday, May 4, beginning at 9 p.m. ET., in addition to being live-streamed on MotoAmerica Live+.
For more updates about Westby Racing, including news, photos, and videos, visit http://www.WestbyRacing.com Also, follow "Westby Racing" on your favorite social media sites.
---
Sean Dylan Kelly Opens 2021 With A Win In Atlanta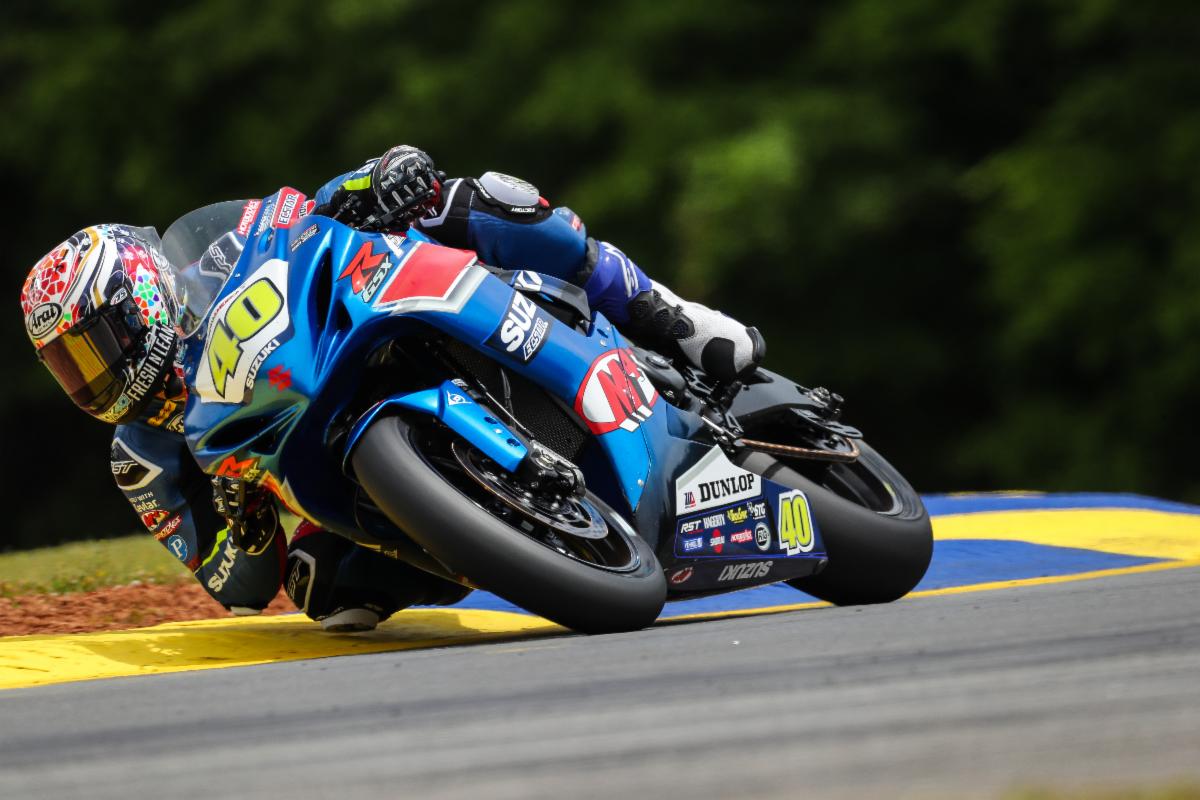 Team Hammer, racing as M4 ECSTAR Suzuki, came away victorious in its season-opening salvo at Road Atlanta, scoring a win, a runner-up, and four top-fives on the first race day of the 2021 MotoAmerica AMA/FIM North American Road Racing Championship.
The win came courtesy of M4 ECSTAR Suzuki's Sean Dylan Kelly, who picked right up where he left off in 2020. The MotoAmerica Supersport title hopeful was in full haymaker mode in the race's opening stages, starting from pole and trading the lead back and forth in a heated dogfight.
'SDK' then exploited a minor mistake on his rival's part to open a small gap around half-distance and never provided him an opportunity to make up for it. Kelly fully broke the pursuit with a series of scorching late laps aboard his Suzuki GSX-R600, winning the race by 2.618 seconds.
"I think it was one of the best races of my career," said Kelly. "I'm really pleased with how strong we have started the year. I'm happy with our package of the bike, the crew, and how I am riding and this is the beginning to our season we were hoping for. I've been focusing on being smart and being good at the end of the races, so I am really proud of this one. We need to keep our feet on the ground and keep improving but this was a good one today."
Kelly was joined in the top five by team newcomer and fellow teenager Sam Lochoff. In his MotoAmerica Supersport debut, the South African fought his way up to third position after starting on the fourth row. From there, Lochoff engaged in a three-way battle for the podium to the checkered flag, ultimately earning an impressive fifth.
MotoAmerica Superbike teammates Bobby Fong and Cameron Petersen got M4 ECSTAR Suzuki off to a similarly strong start in the premier class. The GSX-R1000R-armed Fong clawed his way up from outside the top five to finish as the dramatic contest's runner-up, with Petersen coming home two positions further down the order in fourth.
"We're still getting the bike dialed in, but it was a good race out there," Fong said. "We had some good race pace there at the end. We just had to settle for second today, but I'm looking for more tomorrow. I can't give it up enough to my M4 ECSTAR Suzuki team; they've been busting their butts all weekend."
Meanwhile, Wyatt Farris rounded out the day for M4 ECSTAR Suzuki with a 13th-place ride in the Stock 1000 opener. He said, "We've been a bit behind it this weekend. I got hurt right before the test in Texas and didn't really get to do too many laps. And sometimes you have little gremlins that like to show their face on race weekends. We've been fighting through that, but I've really got to give it up to my guys. These guys haven't stopped, sun up to sundown, trying to get me sorted. I'm not where I want to be. I expect more from myself and us as a program, so we'll just keep our heads down and keep working."
M4 ECSTAR Suzuki will be back in action on Sunday at Road America for another full slate of racing.
---
De Keyrel Scores Robem Engineering's First MotoAmerica Victory While Debuting Aprilia RS 660 In Saturday's Twins Cup Race At Road Atlanta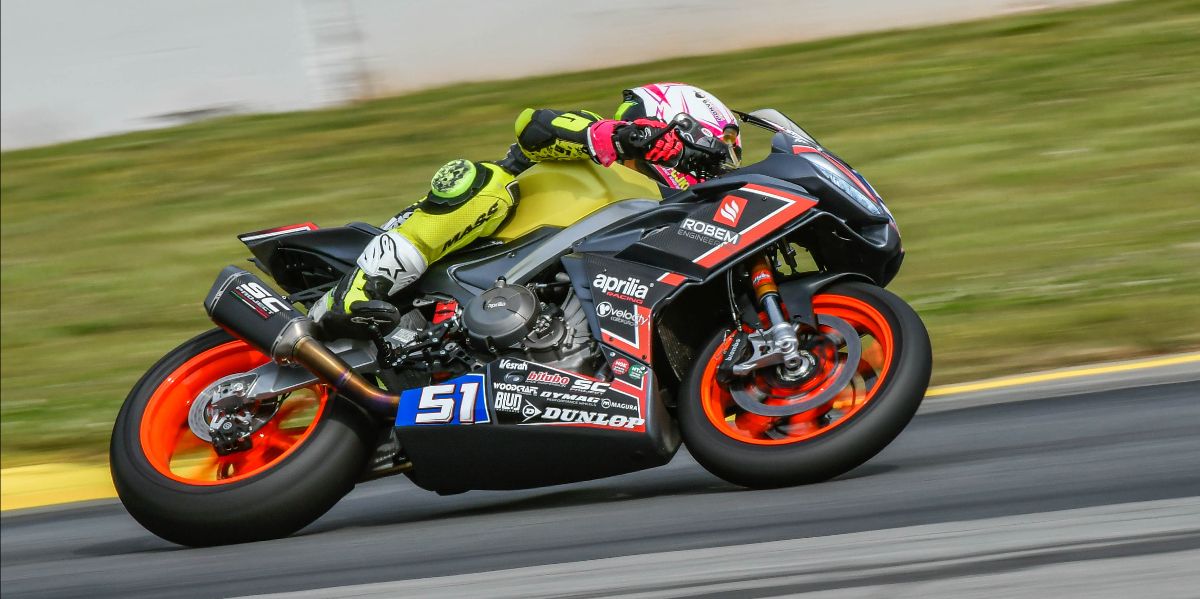 When the season-opening MotoAmerica Superbikes at Atlanta round got underway on Friday at Road Atlanta, none of the three Robem Engineering riders had turned a lap in the offseason aboard a race-spec Aprilia RS 660. By the end of Saturday's MotoAmerica Twins Cup race, Robem Engineering rider Kaleb De Keyrel was celebrating his first victory aboard the Italian machine, and his teammate Hayden Schultz was standing next to him on the podium.

The pair of riders represented two-thirds of an all-Aprilia podium. The team's third rider, Toby Khamsouk, finished in the top five – giving Aprilia four top-five finishes in the RS 660's debut in MotoAmerica Twins Cup.

Despite having no track time aboard their race-spec machines, all three Robem Engineering riders were up to speed aboard the newly-homologated-for-2021 Aprilias by the end of the class' practice session on Friday, with 2020 Twins Cup runner-up De Keyrel finishing the session in second, Schultz in third and Khamsouk in fifth. By the time Twins Cup qualifying has wrapped up early Saturday afternoon, De Keyrel had secured second place on the starting grid, Schultz fourth place and Khamsouk sixth.

When the lights went out and the first Twins Cup race of 2021 got underway late Saturday afternoon, it was De Keyrel who was leading the field of 24 riders into Road Atlanta's Turn 1. All three riders found themselves in race-long battles for the lead or the podium, with De Keyrel in a three-way scrap for the lead and Khamsouk and Schultz vying with another rider for a possible podium finish. After one of the lead trio dropped out of the race due to a penalty, it was De Keyrel who methodically built a small lead he maintained to the checkered flag. For Schultz, it was a last-lap, last-turn pass that allowed him to claim his third-place finish.

All three riders will be back in action on Sunday for the second and final Twins Cup race of the weekend. Coverage of the race starts at about 4 p.m. on MotoAmerica's over-the-top steaming service, MotoAmerica Live+. To learn more about MotoAmerica Live+ and to watch the Robem Engineering riders vie for another Twins Cup victory, visit www.motoamericaliveplus.com.

Kaleb De Keyrel / No. 51
"Overall, it was an epic race. I had a crash in qualifying, which left my crew with a lot to do before the race. The Robem Engineering team did an amazing job getting the bike back together, and I got a great start in the race. My plan was to get to the front and charge hard, and I was able to get the holeshot. I got passed by a rider on the first lap, and I could tell he was pushing really hard. I knew tire wear was going to be an issue later in the race, so I was patient and worked on figuring out where I could make a move for the lead. It ended up being a heated, three-way battle for the lead most of the race, but I was able to bring it home for the victory. It was an amazing first win for Aprilia in MotoAmerica Twins Cup and I was able to get Robem Engineering its first win. We have a lot of changes we're working on for Sunday's Race 2 to make the bike go even faster."

Hayden Schultz / No. 49
"Saturday's Race 1 was quite the experience. It's been a challenging weekend for the whole team, considering we did not have any time on these new Aprilias before the first practice session. The fact that we've been been able to improve so much and put the bike on the podium is awesome. We didn't really know what to expect this weekend, so to get a podium with an undeveloped bike is pretty amazing. It's a long championship and we're going to have lots more opportunities to score more podiums and wins this year. I'm looking forward to seeing what the team and I can do to continue improving the bike. We've got another race on Sunday, and I need to clean up a few things in my riding. I ran off track once in Saturday's race and didn't get the best start. If I can clean those things up, I think I can fight for the win Sunday."
Toby Khamsouk / No. 27
"My start wasn't the best, so I just put my head down and made some passes. I was happy to have posted the fastest lap of the race, and the Aprilia RS 660 was great to ride. I'm looking forward to Race 2."