MotoAmerica's Twins Cup class is at a crossroads. Originally conceived as a way to showcase club racers from around the country by putting them on MotoAmerica's national stage and aboard the same lightweight, twin-cylinder motorcycles that they race as weekend warriors, Twins Cup has evolved more than any other race class in the MotoAmerica Series.
That's what happens when humans are involved. Because of competition and the inherent inability to leave well-enough alone, what was once a race class based on a simple concept has evolved into a full-blown tuner class with bikes that are expensive to build and expensive to maintain.
In fact, by some people's estimations, building and racing a competitive Twins Cup machine is nearly the same cost as building and racing a Supersport bike. Take a gander at Twins Cup Championship-leading Rocco Landers' SportbikeTrackGear.com RoadracingWorld.com Suzuki SV650, and you'll see what we mean.
It's happened a thousand times before in motorcycle road racing. Anyone who remembers the international phenomenon that was the Sound of Singles class will recall that the motorcycles competing in that series started out with simple-as a-stone Yamaha SR500s and SRX600s, Honda FT500 Ascots, and the like, then evolved into high-spec, ultra-expensive Ducati Supermonos and all sorts of exotic, one-off machines with their engines tuned to the maximum and fitted with all kinds of parts made from titanium, unobtanium, and any other "anium" the tuners could get their hands on.
After all, if one thing rings true in every form of racing, it's that people want to go fast, and then they want to go even faster.
This concept of tuning the bejeezus out of the motorcycles has taken its toll in MotoAmerica's Twins Cup class. The series' very-first class Champion Chris Parrish set aside his trusty Suzuki SV650 last year and joined forces with AP MotoArts' Andy Palmer to campaign a Yamaha FZ-07/MT-07 beginning at New Jersey Motorsports Park in 2019. The alliance paid near-instant dividends when Parrish won at Barber Motorsports Park in the very next round.
And, since it was the final round of 2019, the result steeled Parrish's and especially Palmer's determination to become full-on mad scientists with the heretofore relatively simple Yamaha twin-cylinder engine.
Palmer probably went too far. The notably reliable Yamaha was transformed into an unpredictable grenade. Faster, yes, but also quicker to self-destruct. As Parrish said, "The engine on the Yamaha is tuned to its maximum, and it's difficult to keep it clamped together." That proved to be somewhat of an understatement since engine failures led to DNFs and no spare engines or parts to keep the bike running.
The predicament forced Parrish to sit out Pittsburgh, Ridge, and New Jersey. He returned to competition at Barber Motorsports Park and raced "ol' reliable," his tried-and-true Ghettos Customs Suzuki SV650. Parrish finished eighth in both Twins Cup races at Alabama, with the emphasis on finished both races, which the tousle-haired Tennesseean considered to be an absolute success.
Syndicate Racing/Apex Assassins rider Jason Madama experienced a similar fate at New Jersey. With his Yamaha FZ-07/MT-07 also tuned to the hilt, he "lunched" his engine and was unable to start Saturday's race due to a lack of parts, which brought his 2020 Twins Cup campaign to a premature end despite having been ranked as high as third in the season championship and having reached the podium twice, including at Ridge, one race prior to his fateful New Jersey trip. The words "damn shame" come to mind, and that's putting it mildly.
Hayden Schultz Racing's Hayden Schultz has taken a different tack. He told us that he intentionally builds his Yamaha FZ-07/MT-07 racebike–and the racebikes that he leases to other competitors in order to help fund his own program–for reliability instead of outright power and speed, which has helped him reach the podium seven times this season, including three runner-up results.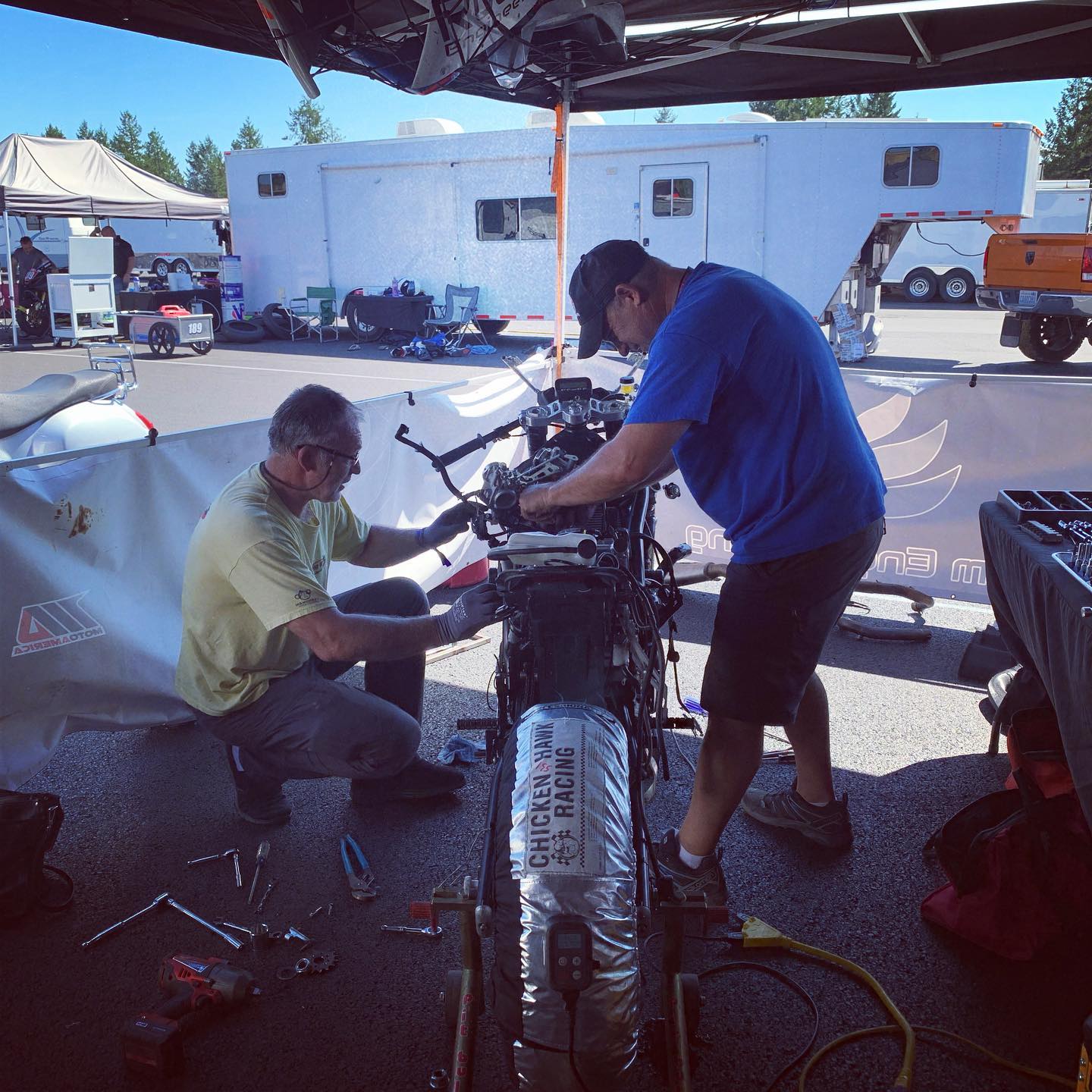 Even the pied piper of Suzuki SV650s himself, Michael Copoulos, has some tales of woe. "The engine costs are getting extreme," Copoulos said. "I cannot get replacement transmission parts. They have to come from Japan. It's so bad that we're buying used transmissions on eBay and salvaging what we can."
It's true that humans always want to go faster but they also don't want to go broke in the process. So, is it time to consider some rules changes in Twins Cup? Should a reduction in the engine specs be considered for 2021?
In a previous story on this Website, we wrote about the Aprilia 660, which may be poised to push the envelope in Twins Cup even more. The bike has not yet become available in the U.S., nor has it been homologated for Twins Cup competition. But, the expectation is that, for riders and teams that can afford to race it, it has the potential–at least on paper–to become the overlord in the class.
The days of club racers with shoestring budgets competing aboard reliable, affordable twin-cylinder "streetbikes" may be a quaint relic in the not-too-distant annals of MotoAmerica Twins Cup history.
Call it "progress," but we humans just can't leave well-enough alone.
To purchase tickets for all MotoAmerica events, click HERE
For information on how to watch the MotoAmerica Series, click HERE
For the full 2020 MotoAmerica Series schedule, click HERE