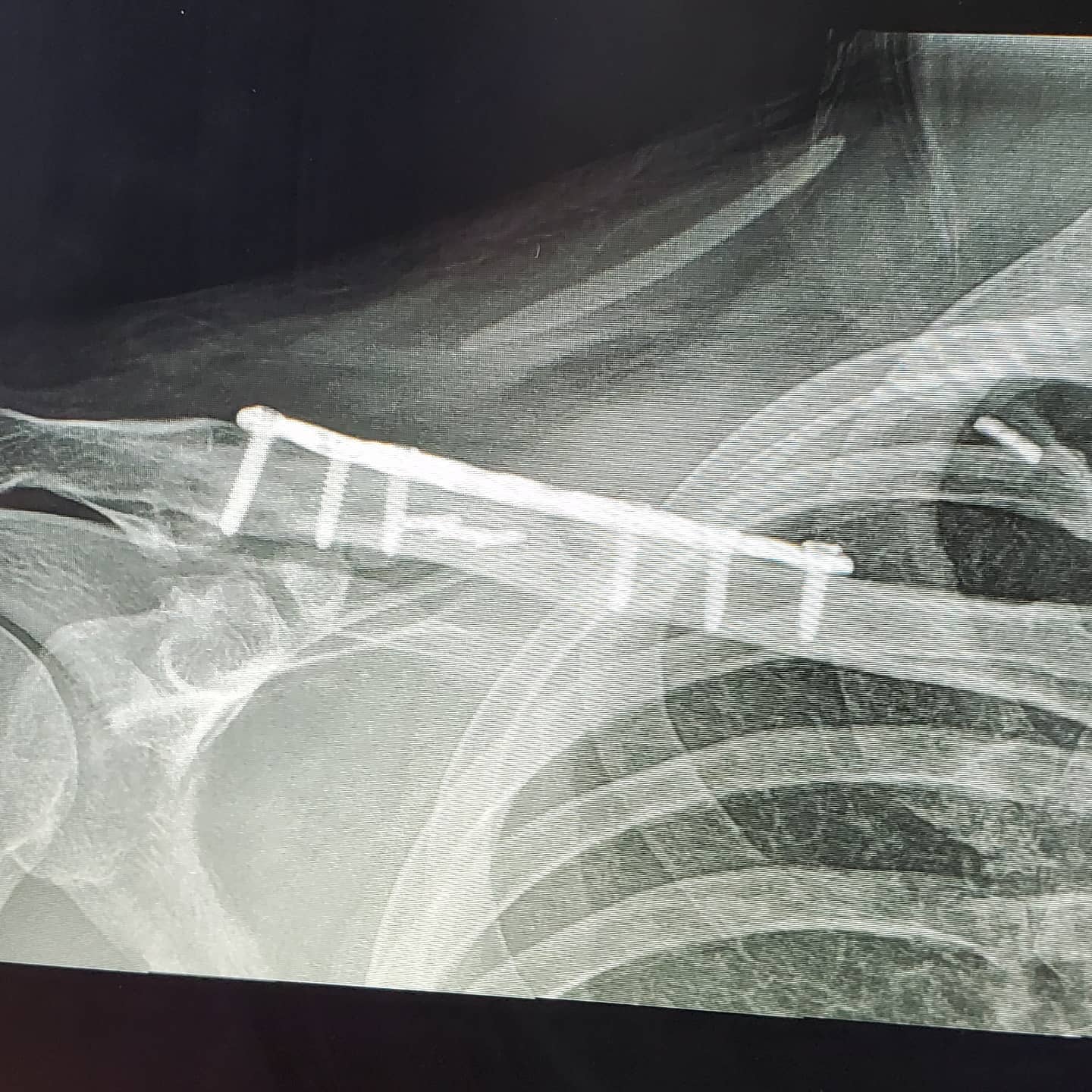 Time for a pop quiz:
Quick, which bone do motorcycle road racers fracture more frequently than any other?
If you got the not-so-subtle hint from the title of this story, the equally not-so-subtle hint from the X-ray image provided to us by MotoAmerica Stock 1000 rider Jeremy Cook, you've suffered the injury yourself while road racing, you're a medical physician, you're "pre-med" (aren't we all?), or you play a doctor on TV, then you already know the answer is "the clavicle." Or, "the collarbone" if you're not into the whole medical-terminology thing.
Fact is, motorcycle road racers break their clavicles pretty often. When you fall off a fast-moving motorcycle, as motorcycle road racers sometimes do, the shoulder generally takes the majority of the impact. And the shoulder is connected to the sternum by a long, thin "subframe" known as the clavicle. Well, that long, thin subframe is a bone fracture just waiting to happen.
2020 Supersport Champion Richie Escalante began his title defense with a fractured clavicle that he suffered after crashing his pedal bike just before the start of the 2021 season. Yup, that's right, motorcycle road racers don't even have to be racing their motorcycles to break their clavicles.
Lots of riders have broken their clavicles and then road raced not long after suffering the injury. Allow me to regale you with a decades-old tale of Superbike super-courage. Sit right here, at my knee.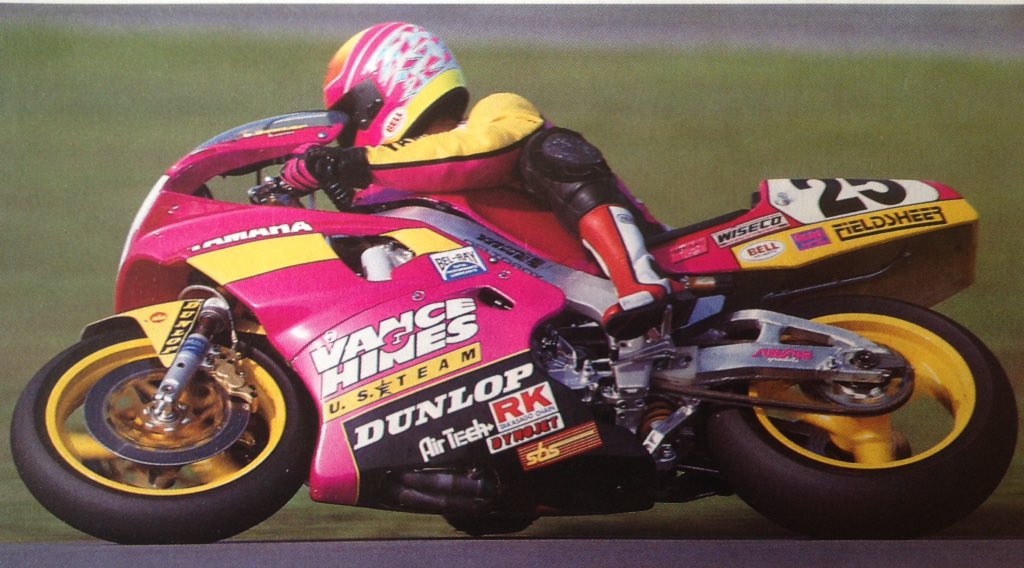 In 1990, Vance & Hines Yamaha Superbike rider David Sadowski broke his collarbone during the season (by the way, "Ski" won that year's Daytona 200). He had surgery on the injury, which involved the installation of a nifty plate and set of screws to stabilize the bone so it could heal. It did not prevent him from racing nor did it prevent him from crashing again and bending the very plate that was supposed to be holding his clavicle together.
Now, here's where things get a little, shall we say, pear-shaped. As the story goes, in order for Ski to continue racing that season, he quite literally picked up a hammer and pounded that crash-bent plate back into place. I know, "Inconceivable!" as actor Wallace Shawn's character Vizzini loudly proclaimed in "The Princess Bride." But, go and ask Yamaha Motor Corporation, U.S.A., Assistant Department Manager of Racing Tom Halverson about Ski's collarbone. He'll tell you the same story.
Ski was a tough guy, but he wasn't a U.S. Marine.
Stock 1000 rider Jeremy Cook is. At Road America, Cook crashed his BMW S 1000 RR, and among his multiple injuries, you guessed it, he fractured his clavicle. Actually, he shattered his clavicle. In five places. Again, that's Cook's X-ray at the top of this story.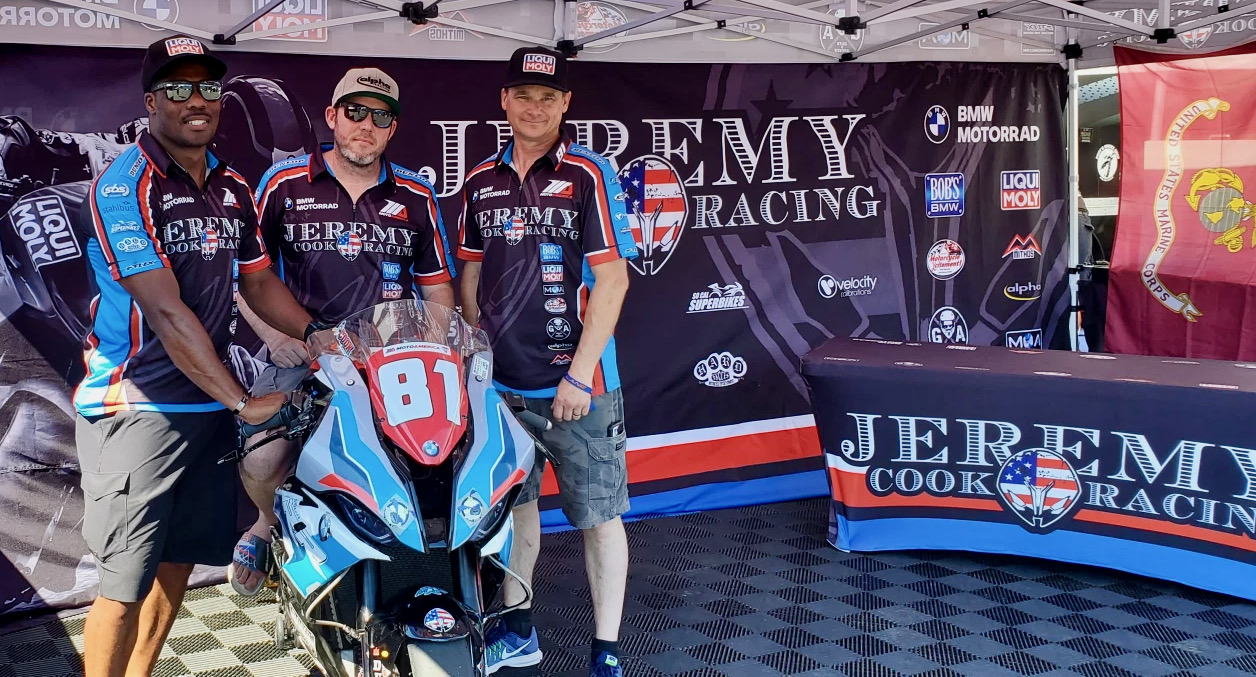 He wasn't sure if he'd be medically cleared to race at MotoAmerica's next round on June 25 through 27 at Ridge Motorsports Park. But he did. In fact, he led his team of U.S. Marines veterans to two 16th-place finishes in the weekend's MotoAmerica Stock 1000 races aboard his BMW S 1000 RR. Just making it to the end of each 13-lap race in brutally hot and humid conditions was a challenge for the ailing Cook, but the former Marine saw the mission through.
He's on the entry list for this weekend's Stock 1000 race at WeatherTech Raceway Laguna Seca, too. If you're coming to the track, stop by his paddock area, and thank him for his service to our country. While you're there, also give Cook a big U.S. Marines "Oorah!" He hasn't let his Clavicle Calamity prevent him from continuing to race in MotoAmerica.
To purchase tickets for all MotoAmerica events, click HERE
For information on how to watch the MotoAmerica Series, click HERE
For the full 2021 MotoAmerica Series schedule, click HERE