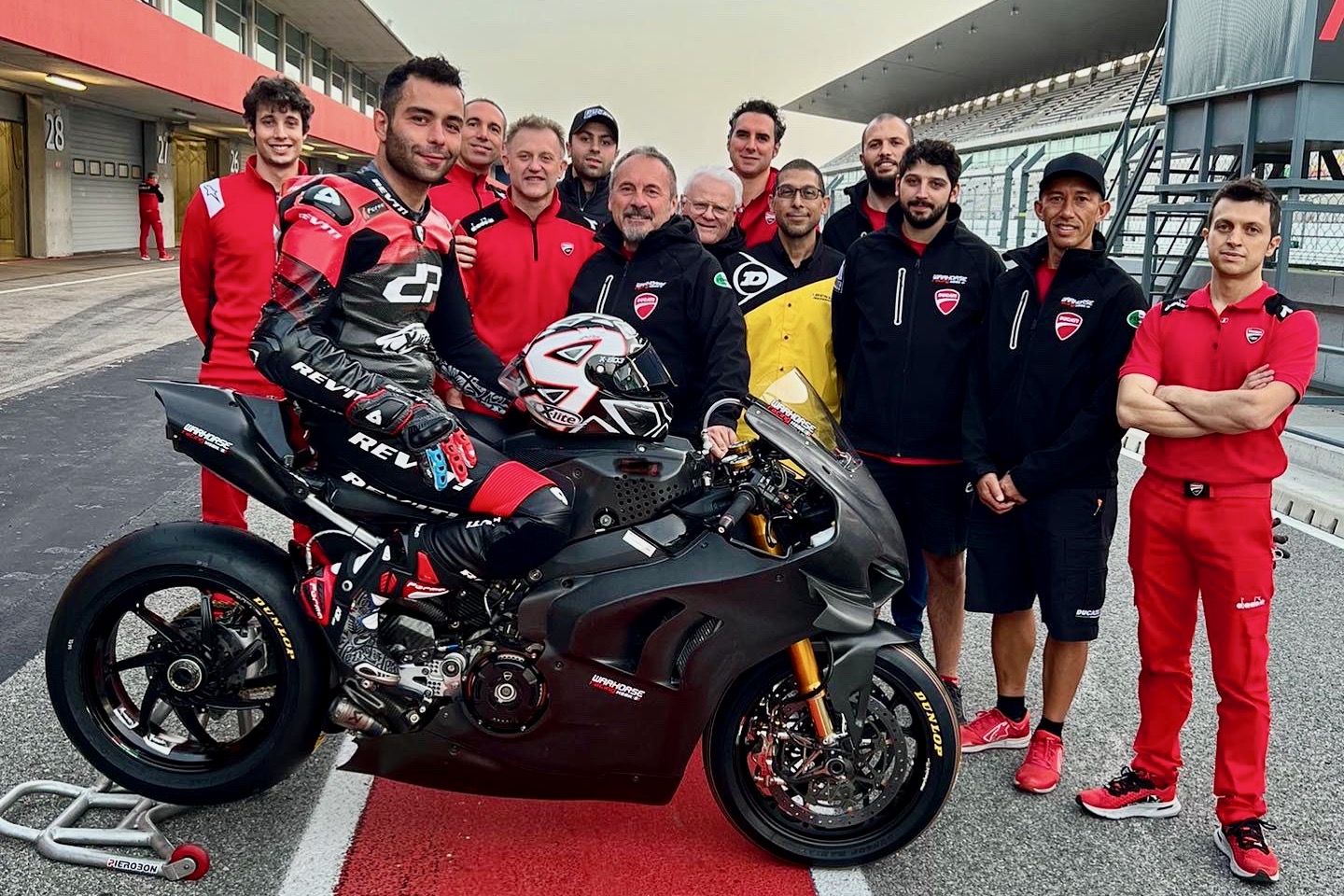 Warhorse HSBK Racing Ducati NYC rider Danilo Petrucci and his crew, which included Fast By Ferracci patriarch Eraldo Ferracci, Dunlop Motorsports Technician Tony Romo, Warhorse HSBK Racing Ducati NYC team technician Danny Anderson, and a small army of Ducati Corse engineers, technicians, and personnel, completed an "orientation test" at Algarve International Circuit in Portimão, Portugal.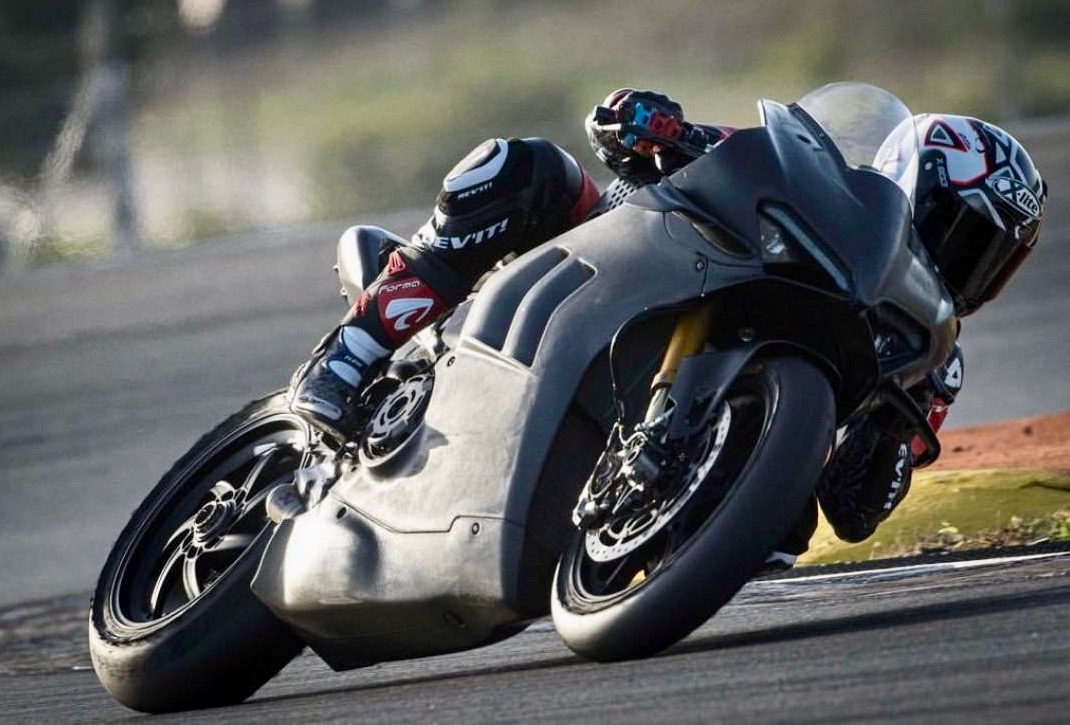 For Petrucci, it was his first outing on a MotoAmerica-spec Ducati Panigale V4 R equipped with Dunlop racing tires and VP racing fuel. He and the team worked diligently and methodically over the two days to establish a baseline setup for the upcoming MotoAmerica Medallia Superbike Championship, which begins at the Circuit of The Americas in Austin Texas, on April 8 through 10.
Also present at Portimão was Marco Caregnato from GPone.com, who interviewed Petrucci after the test concluded.
Petrucci commented to Caregnato, "It was a day of experiments. The team doesn't know me, and I don't know the bike or the tires. It was a complicated day, in the sense that we moved many things on the bike, but the time was always the same, both with new and used tires. I always remembered that, on this type of bike, due to my physical size, you need a really long bike. In fact, in the end, we changed the set-up, put on some… let's say… new race tires and dropped the time by a second."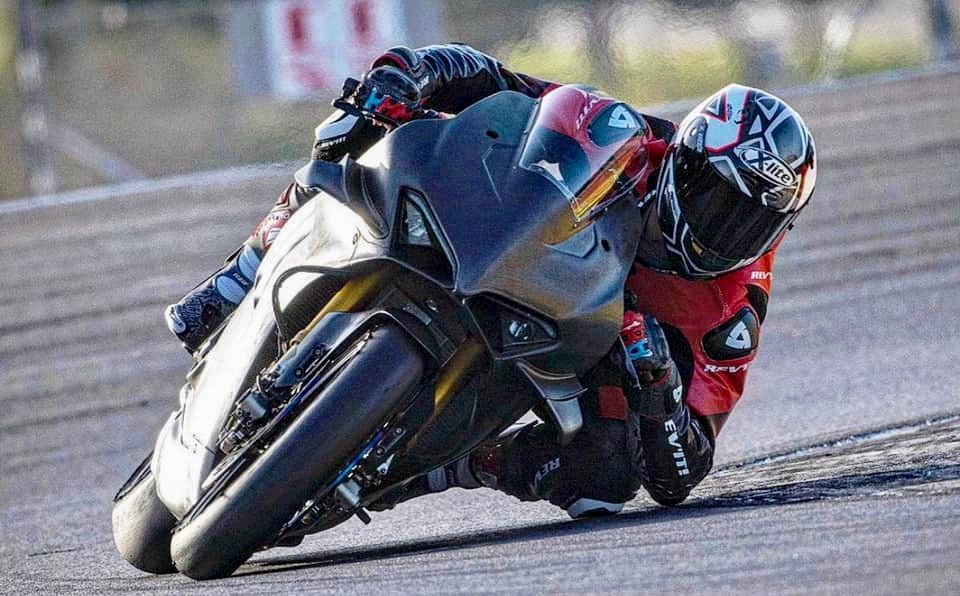 As far as lap times go, Petrucci didn't have a transponder on his bike, but according to members of his team, his laptimes were comparable with some of the World Superbike riders who were also on track at Portimão and testing concurrently with Petrucci. In fact, it's been reported that Petrucci's lap times were on par with Aruba.it Racing's Michael Ruben Rinaldi, who was aboard a World Superbike-spec Ducati Panigale V4 R shod with Pirelli tires.
When Caregnato asked Petrucci about the Dunlop tires, he said, "All day, I used very hard tires because I need to understand very well the limit of the tires and also of the electronics. This bike has very advanced electronics. These Dunlops are made in America for those asphalt surfaces, and riding here with everyone on Pirelli tires, which as a result leaves Pirelli residue, makes it difficult to understand how things are. Yesterday morning, as soon as we went on track, we immediately went fast, then we got bogged down a bit until this afternoon. But in the end, thanks also to my experience, I convinced them to do as I wanted, and it worked. Ducati is helping us a lot and is looking at what is needed. We have good support, like that of the factory team."
Petrucci's predecessor on the Warhorse HSBK Racing Ducati NYC team last year was, of course, Frenchman Loris Baz, and he is well-aware of the challenges that Baz faced in the MotoAmerica Superbike Championship. "Baz did not win any races in MotoAmerica, then he came to World Superbike and finished third," Petrucci told Caregnato. "Racing there is not an easy ride at all because the Yamahas are the same as those that Toprak and Locatelli have, so they are 100% official. Then, there are also the Suzukis that are strong, and there are several riders who are strong. Then what changes a lot are the tracks, which are different from what we are used to here. They all almost scared me for the layout of the tracks and also for the asphalt. Baz surprised me last year when he came to World Superbike without trying anything and made the podium and had a hard life there in the States. It's not bullsh*t at all. Precisely for this reason, Ducati has decided to support more this team. The technical difference is very big compared to the Superbike World Championship, so they want to understand what to do on the bike to go fast."
For the full 2022 MotoAmerica schedule and to purchase tickets for MotoAmerica events, click HERE
For information on how to watch the MotoAmerica series, click HERE