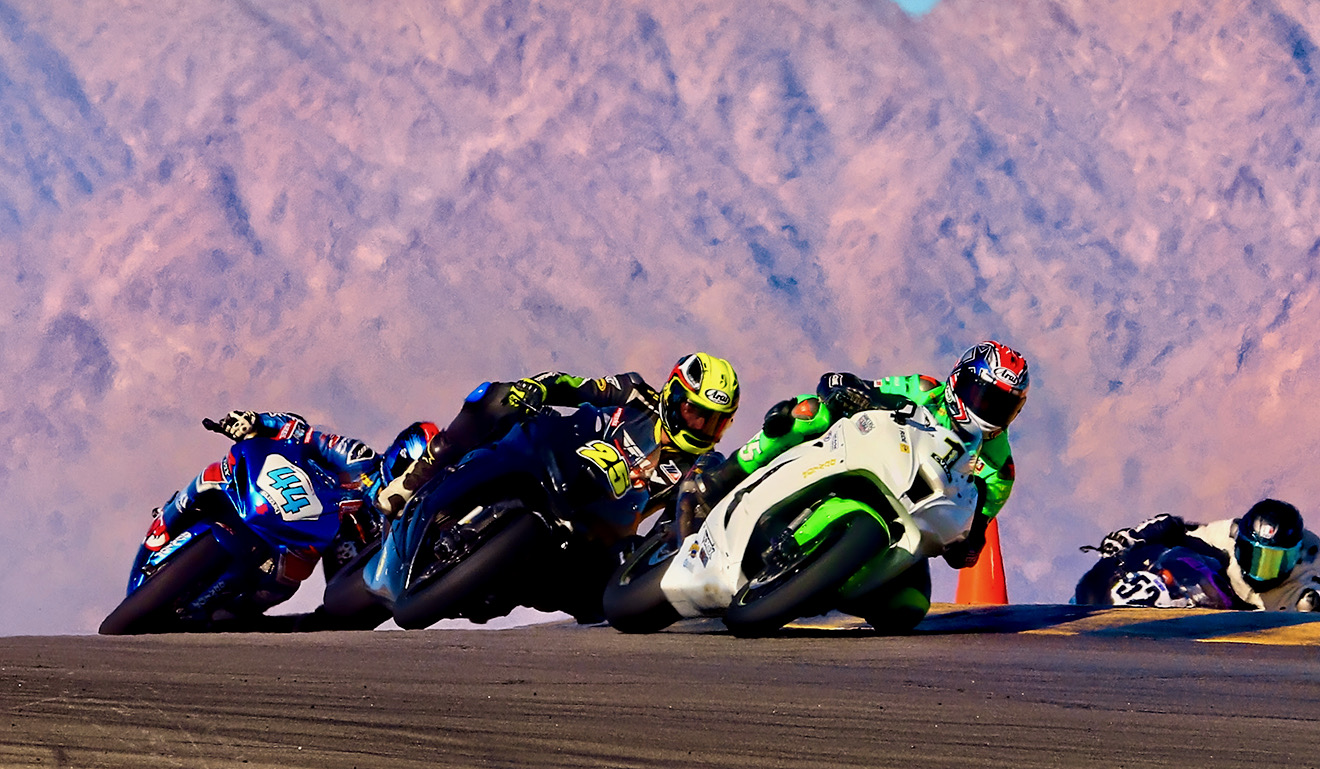 Round three of the CVMA Racing Winter Series took place at Chuckwalla Valley Raceway in Desert Center, California, over the previous weekend, and a huge delegation of MotoAmerica riders not only turned out for the event, but they dominated the tops of the timesheets as well as the post-race podiums.
In Saturday morning qualifying, Michael Gilbert was fastest overall on an open-class bike turning a 1:45.653 lap time. Alejandro Thermiotis was the fastest middleweight rider with a lap time of 1:48.495. John Knowles turned a 1:53.995 for the fastest lightweight class lap time, and Jayden Fernandez was fastest in the ultra-lightweight bikes with a lap time of 1:57.674.
Gilbert and Andy DiBrino squared off in Sunday morning's Supersport Open, and Gilbert got the holeshot with DiBrino close behind. Gilbert led the entire race with DiBrino not giving him an inch and pressuring him throughout the entire race. The two riders set new lap records for the class on almost every lap, with Gilbert setting a new record early and then lowering it further a lap later. DiBrino, however, was able to go faster still on the penultimate lap of the race to lower the record to a 1:44.823. Gilbert won the race with DiBrino a close second. Meanwhile, Sam Lochoff finished third aboard a 600cc bike against the 1000cc bikes in the class.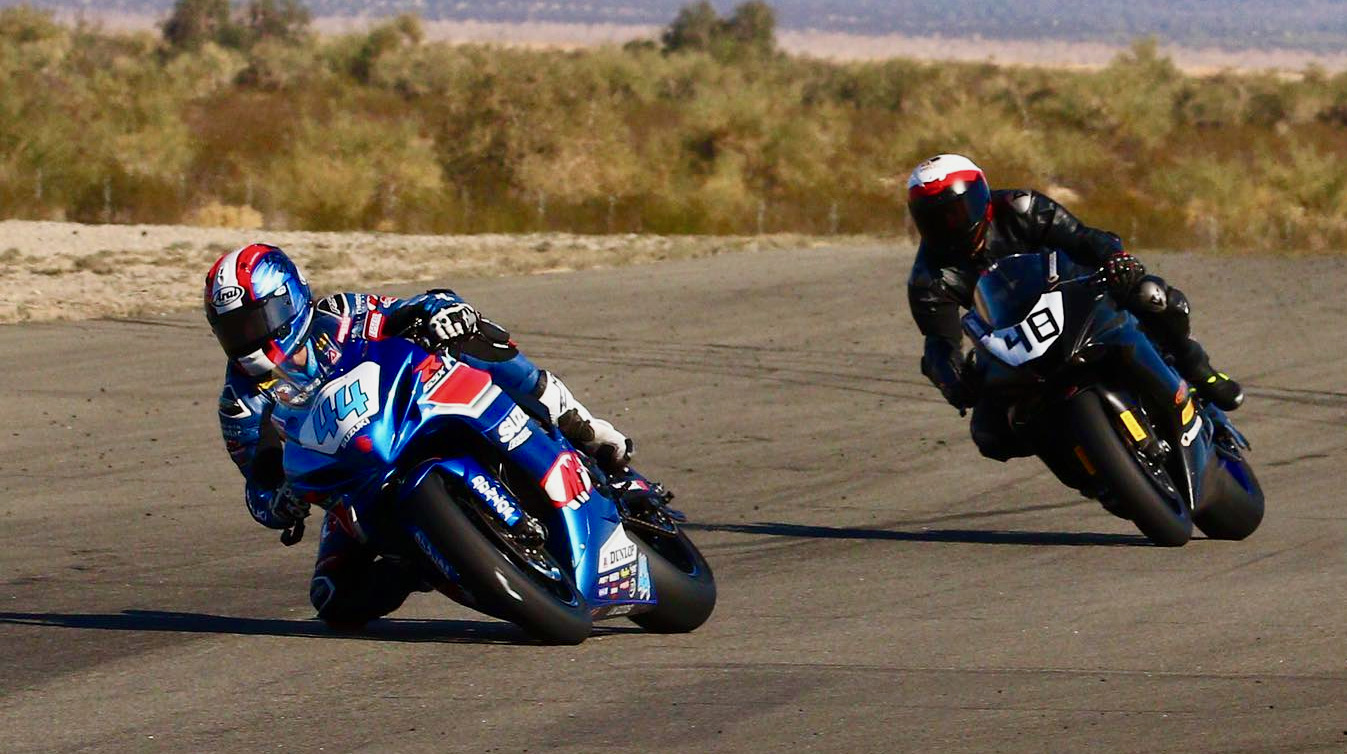 The Open Shootout was a very close race with the top three riders setting new lap records throughout the beginning of the race. David Anthony took third in the race but set a new lap record of 1:44.777. DiBrino got the holeshot and led the first five laps with Gilbert and Anthony close behind in second and third, respectively. Just past the halfway point of the race, Gilbert was able to pass DiBrino for the lead and take the win by about a one-second margin. DiBrino finished second with Anthony third, while Lochoff finished fifth.
In the Superport Shootout, Lochoff dominated from the start, setting a new lap record of 1:45.351 and winning the race by a wide margin, while Chad Lewin finished second.
---
SATURDAY RESULTS (MotoAmerica Riders)
Formula Ultra Lightweight
1. Jayden Fernandez (Honda NSF250R)
2. Owen Williams (Kawasaki Ninja 400)
3. Travis Horn (Kawasaki Ninja 400)
Formula 2
1. John Knowles (Suzuki SV650)
4. Jayden Fernandez (Honda NSF250R)
American Twins
1. Frankie Garcia (Indian FTR1200)
2. Eric Stahl (Harley-Davidson XR1200)
3. Andrew Lee (Harley-Davidson Road Glide)
Formula Open
1. Michael Gilbert (Kawasaki ZX-10R)
2. David Anthony (Kawasaki ZX-10R)
3. Andy DiBrino (Kawasaki ZX-10R)
Formula Middleweight
1. Sam Lochoff (Suzuki GSX-R600)
2. Chad Lewin (Yamaha YZF-R6)
6. Edgar Zaragoza (Yamaha YZF-R6)
500 Supersport
1. Owen Williams (Kawasaki Ninja 400)
2. Travis Horn (Kawasaki Ninja 400)
4. Adam Faussett (Kawasaki Ninja 400)
SuperSport Open
1. Michael Gilbert (Kawasaki ZX-10R)
2. Andy DiBrino (Kawasaki ZX-10R)
3. Toby Khamsouk (Suzuki GSX-R1000)
5. Sam Lochoff (Suzuki GSX-R600)
SuperSport Middleweight
1. Chad Lewin (Yamaha YZF-R6)
2. Sam Lochoff (Suzuki GSX-R600)
4. Chris Sarbora (Kawasaki ZX-6R)
5. Harm Jansen (Yamaha YZF-R6)
Formula Twins
1. John Knowles (Suzuki SV650)
Formula 40 Ultra Lightweight
2. Adam Faussett (Kawasaki Ninja 400)
---
SUNDAY RESULTS (MotoAmerica Riders)
American Thunder
1. Andrew Lee (Harley-Davidson Road Glide)
Formula Twins
1. John Knowles (Suzuki SV650)
Formula 40 Ultra Lightweight
1. Adam Faussett (Kawasaki Ninja 400)
Formula Ultra Lightweight
1. Owen Williams (Kawasaki Ninja 400)
2. Jayden Fernandez (Honda NSF250R)
3. Adam Faussett (Kawasaki Ninja 400)
SuperSport Open
1. Michael Gilbert (Kawasaki ZX-10R)
2. Andy DiBrino (Kawasaki ZX-10R)
3. Sam Lochoff (Suzuki GSX-R600)
SuperSport Middleweight
1. Sam Lochoff (Suzuki GSX-R600)
2. Chad Lewin (Yamaha YZF-R6)
3. Alejandro Thermiotis (Yamaha YZF-R6)
4. Edgar Zaragoza (Yamaha YZF-R6)
Open Shootout
1. Michael Gilbert (Kawasaki ZX-10R)
2. Andy DiBrino (Kawasaki ZX-10R)
3. David Anthony (Kawasaki ZX-10R)
5. Sam Lochoff (Suzuki GSX-R600)
6. Toby Khamsouk (Suzuki GSX-R1000)
Ultra Lightweight Shootout
1. Owen Williams (Kawasaki Ninja 400)
2. Jayden Fernandez (Honda NSF250R)
6. Adam Faussett (Kawasaki Ninja 400)
Supersport Shootout
1. Sam Lochoff (Suzuki GSX-R600)
2. Chad Lewin (Yamaha YZF-R6)
3. Chris Sarbora (Kawasaki ZX-6R)
4. Alejandro Thermiotis (Yamaha YZF-R6)
5. Edgar Zaragoza (Kawasaki ZX-10R)
American Twins
1. Andrew Lee (Harley-Davidson Road Glide)
Formula 2
1. John Knowles (Suzuki SV650)
Formula Open
1. Michael Gilbert (Kawasaki ZX-10R)
2. Andy DiBrino (Kawasaki ZX-10R)
4. Toby Khamsouk (Suzuki GSX-R1000)
500 Supersport
1. Owen Williams (Kawasaki Ninja 400)
3. Adam Faussett (Kawasaki Ninja 400)