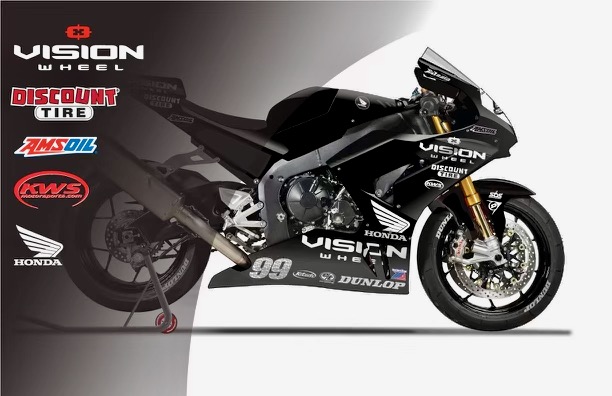 Geoff May is making a full-time return to professional motorcycle road racing for 2022, competing in the MotoAmerica series as a Premier Entrant/Team Owner/Rider in both the Medallia Superbike Championship and the Stock 1000 Championship with his newly formed team Vision Wheel/Discount Tire/Amsoil/KWS Motorsports/Honda. May's primary goals are to race for the championship in Stock 1000 and also develop the Honda CBR1000RR-R Fireblade SP into a Superbike one weekend at a time. Veteran technician Michael Godin of KWS Motorsports in Charleston, South Carolina, will be the team's Crew Chief and provide complete bike builds, tuning, and research and development for the team, bringing over 20 years of experience with him.
"Kevin Hunt (owner of KWS) and I are delighted to be partnering with Geoff May Racing for another season in MotoAmerica. We have not contested the whole series since 2009 on Factory Aprilias. We're looking forward to continuing our successes from last year in the Superstock 1000 class along with getting back into the Superbike class full-time. It is going to be exciting to see what we can do with a second year on the Honda CBR1000RR-R Fireblade SP with more support from all of the new and current sponsors." – Michael Godin, Crew Chief
"I am really excited to be racing full-time again. Racing has been really good to me and my family. I can't wait to start this new chapter in my career. Our goal is to build a championship-contending team that can be a main fixture at the top level of road racing in the United States. I would like to give back to the paddock with all the knowledge I have gained over the years and help up-and-coming racers by fostering their talent. This will be a long-term goal, with me stepping down from racing in the future and focusing on the team. I would like to personally thank Roger Minor, Rick Kress, Michael Godin, Simon Sostaric, and my family for making this all possible and supporting me 110%. Being able to bring these sponsors together is a dream come true and a good example of why you should never give up on something that you love." – Geoff May
"I am very excited to get the racing started and can't wait to see what the team can accomplish with a full season of racing." – Will Gawler, Lead Chassis Mechanic
"We are very happy and excited to see Geoff compete on the new Fireblade SP and participate in our Red Rider Rewards program in both professional MotoAmerica racing, as well as in grassroots club racing." – Brandon Wilson, Honda Powersports Experiential Marketing and Racing Manager
Geoff May Racing would also like to thank all of their supporting and technical sponsors for their contributions and longstanding relationships. The team is currently sponsored by SBS Brakes, Arata Exhaust, Evol Technologies, K-Tech Suspension, Orient Express, Thermosman, Arai Helmets, Dainese, BikeSport Oldsmar, Flex Racing, and Rob Pippins Design.
The team is always looking for supporting and technical sponsors to partner with. Please send sponsorship inquires to JodiMay99@att.net.