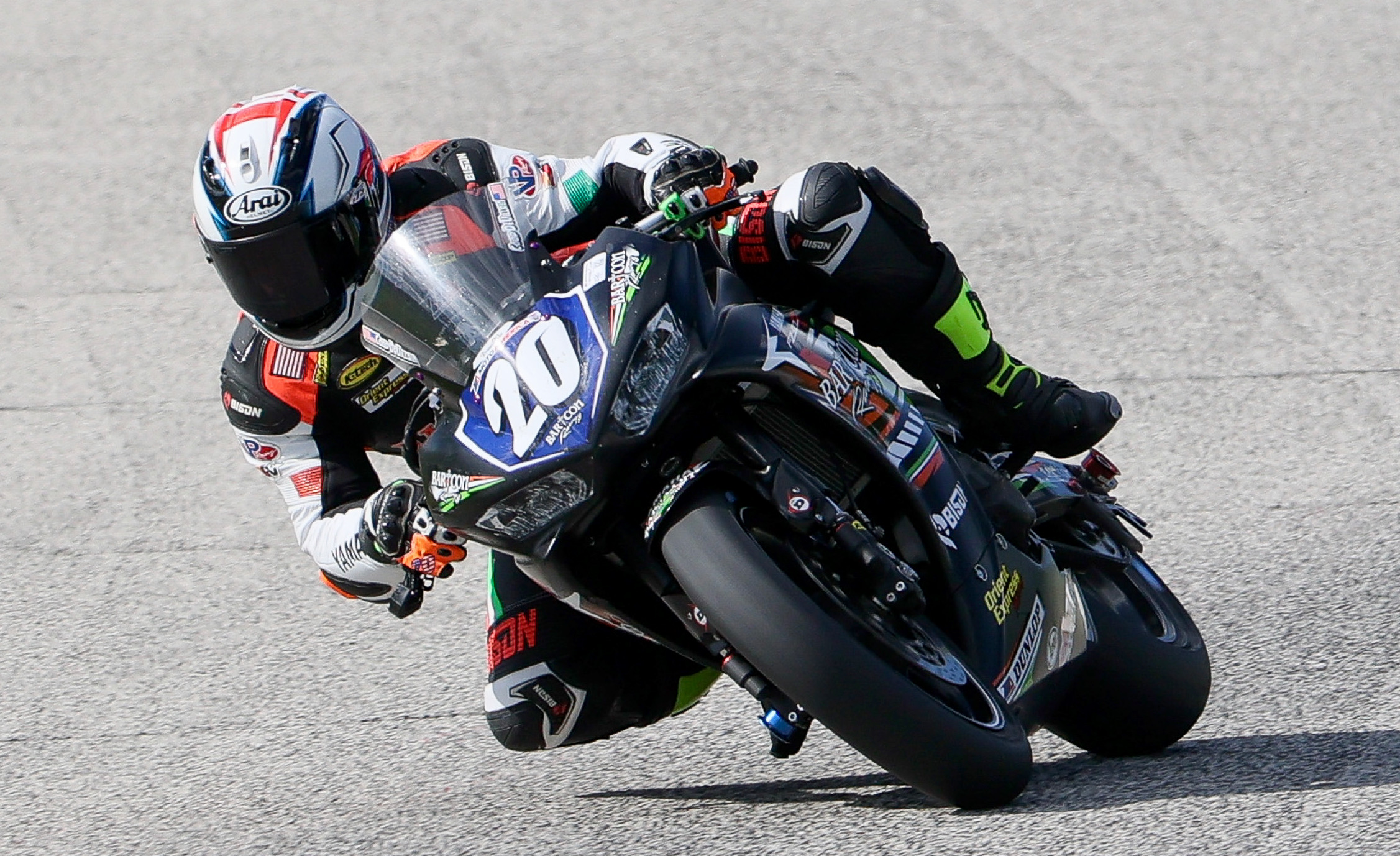 We've received word from Altus Motorsports team owner George Nassaney that their Supersport rider Kevin Olmedo was been sidelined due to an injury that he sustained while training on a motocross bike. Former Twins Cup rider Cooper McDonald will fill in for Olmedo while he recovers, and the expectation is that McDonald will race the team's Suzuki GSX-R600 in at least the first round of the 2021 MotoAmerica Championship, which will take place at Michelin Raceway Road Atlanta on April 30 through May 2.
Olmedo competed in this year's Daytona 200, but he experienced some issues with his shoulder, which due to an earlier training injury. After consulting with physicians, he was advised that he needed to have surgery. So, in an effort to salvage as much of the 2021 season as possible, the decision was made to have the surgery done immediately.
"We committed to MotoAmerica to put that bike on the grid, and as soon as we found out about Kevin, we started looking for someone to fill the spot," commented Nassaney. "We've known Cooper for a few years, and he's from Oklahoma, as well. I'm glad he can step in, and we look forward to having him in the pits."
"Obviously, we wish that Kevin could be at 100% for the start of our 2021 MotoAmerica Supersport campaign. We are all hoping he can make it back by the second round, but if not, Cooper will continue to ride."
McDonald is no stranger to the MotoAmerica paddock. He competed in Twins Cup for the past two years, finishing the 2019 Season eighth overall and the 2020 season sixth overall. He has campaigned a middleweight bike at the club level and raced in the Daytona 200 in 2018. He's looking forward to testing the Altus Motorsports GSX-R600 prior to the Atlanta round.
McDonald said, "My plan was to take a sabbatical from the national level for the 2021 season and join the Supersport ranks in 2022. But, when George called, it seemed like a great way to get some experience. It's an incredible opportunity. I've been training a ton. I'm probably in the best shape of my life. I'm grateful to Altus for thinking of me and placing their confidence in me. And I'm extremely thankful to Cody Gayer at CG Law for his support. Without it I would not be able to jump on this chance to race MotoAmerica in 2021."
Competing on a Suzuki at Michelin Raceway Road Atlanta will be a new experience for Cooper, but the Altus team is there for support. Teammates Jaret Nassaney (Supersport) and Jake Lewis (Stock 1000) will be there to help with their knowledge of the track and the bikes. Crew chief Eric Gray also has years of data and setup information. McDonald also has the benefit of advice from his mentor, Suzuki legend Kevin Schwantz.
To purchase tickets for all MotoAmerica events, click HERE
For information on how to watch the MotoAmerica Series, click HERE
For the full 2021 MotoAmerica Series schedule, click HERE