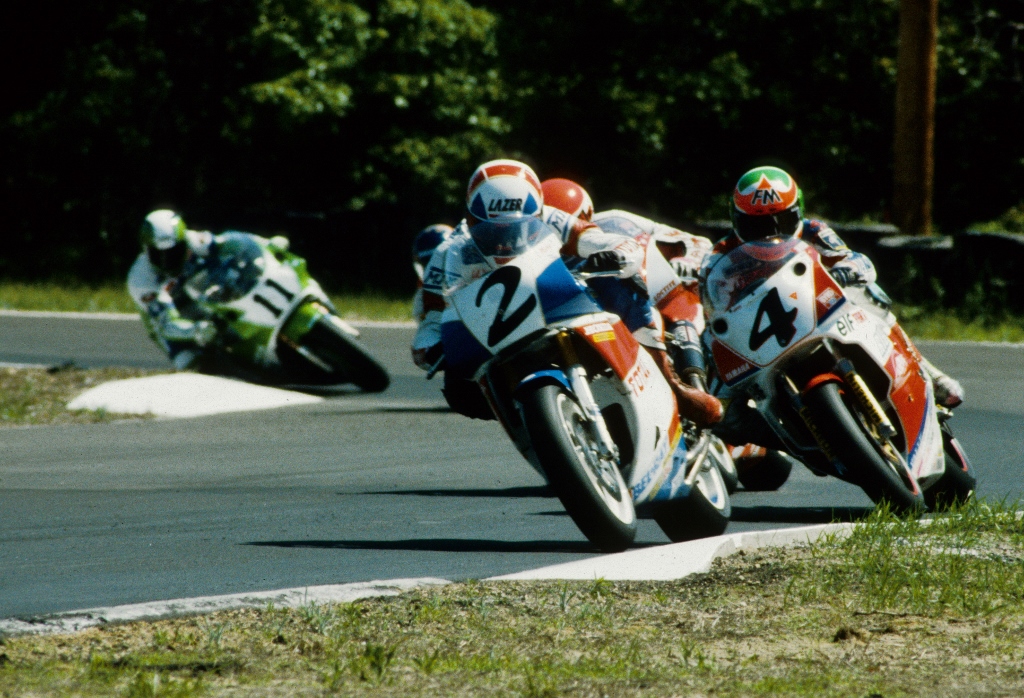 It's been a minute since professional motorcycle road racing has taken place at Brainerd International Raceway (BIR) in Brainerd, Minnesota. More precisely, it's been 17 years. After nearly two decades, we're returning to BIR next week for round six of the 2021 MotoAmerica Championship, so here's a quick refresher course on some of the historic highlights of motorcycle road racing at BIR.
Brainerd International Raceway opened back in 1968, and it was originally called Donnybrooke Speedway. The track started out as an auto racing venue only, but in time, it gave way to motorcycle road racing, and the old turn one was the fastest right-hand corner in America. After nearly a mile-long run down BIR's front straight, riders would go through BIR's turn one in top gear with the throttle pinned.
Speaking of "Donnybrooke," in June 1987, Yoshimura Suzuki's Kevin Schwantz collided with his teammate Satoshi Tsujimoto going into turn one, and both riders hit the ground at more than 160 miles per hour. After the crash, in order to gauge Schwantz's mental faculties, a medic asked him what day it was. Schwantz responded that, although it was Saturday when he crashed, he slid so far and for so long that it "may be Sunday now." Incidentally, MotoAmerica president Wayne Rainey was the victor in that race.
BIR also hosted the World Superbike Championship for three years in 1989, 1990, and 1991.
1989 was the second year of the World Superbike Championship, and the new series came to Brainerd International Raceway for the first time in June of that year. It was round four of the 11-round championship, and the first rider to win a World Superbike race on American soil was Frenchman Raymond Roche. In fact, Roche swept the weekend in Brainerd on his Squadra Corse Lucchinelli Ducati 851. World Superbike defending champ Fred Merkel finished third aboard his Rumi RCM Honda RC30 in race two that year, and he went on to win his second World Superbike Championship.
In 1990, Muzzy Kawasaki rider Doug Chandler made his international debut when he won race two at Brainerd. Chandler was the very first American to win a World Superbike race on home soil.
He won the pole with a record-setting lap as U.S riders dominated qualifying with seven of the top ten riders being American, including Fred Merkel (2nd), Scott Russell (4th), David Sadowski (5th), Jamie James (6th), Thomas Stevens (8th), and Randy Renfrow (10th).
In 1991's World Superbike event at Brainerd, Doug Polen won both races aboard his Fast by Ferracci Ducati 888, while Muzzy Kawasaki's Scott Russell finished second in both legs.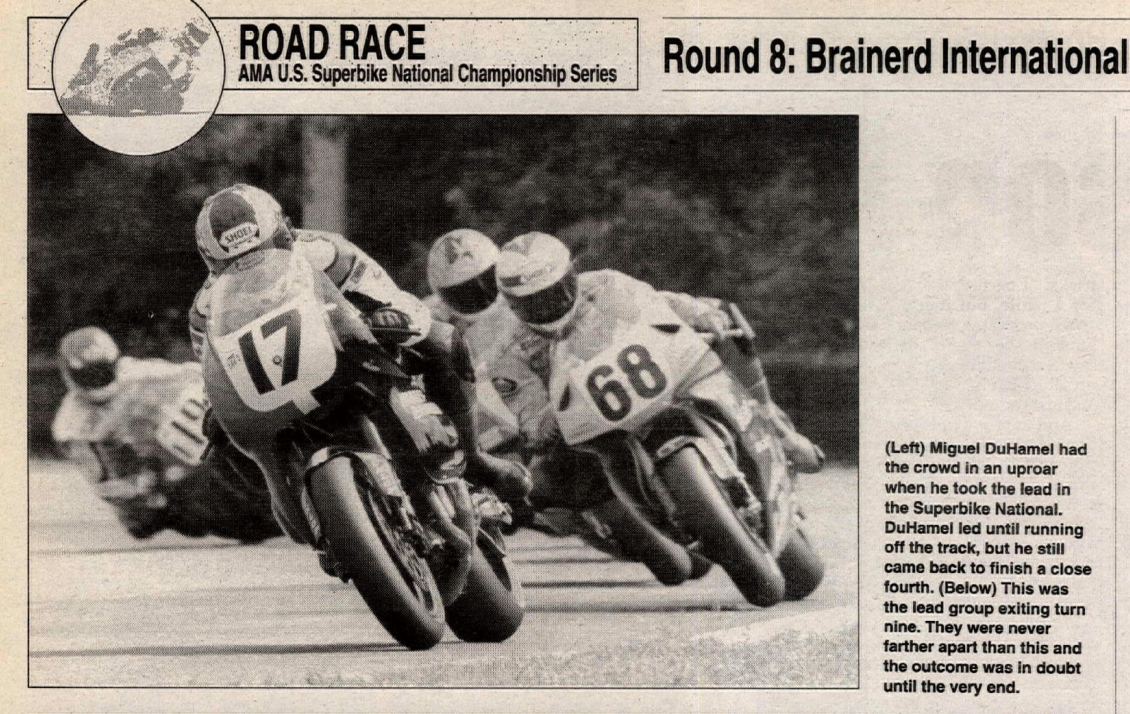 Formula USA also held an event at Brainerd in 1991, and it was quite a sight to see teammates Rich Oliver and HONOS Superbike rider Cam Petersen's father Robbie Petersen wheelying their Team Roberts Yamaha YZR500s down Brainerd's long front straight. Petersen was the victor in race one that weekend, and Oliver won race two, with the overall win going to Petersen based on combined scores from the two 12-lap races.
Miguel Duhamel led the 1994 AMA Superbike race at Brainerd on his Harley-Davidson VR1000 against Colin Edwards, Troy Corser, and Fred Merkel, but he ran off the track. Edwards ended up winning the race, but Duhamel still managed to finish fourth.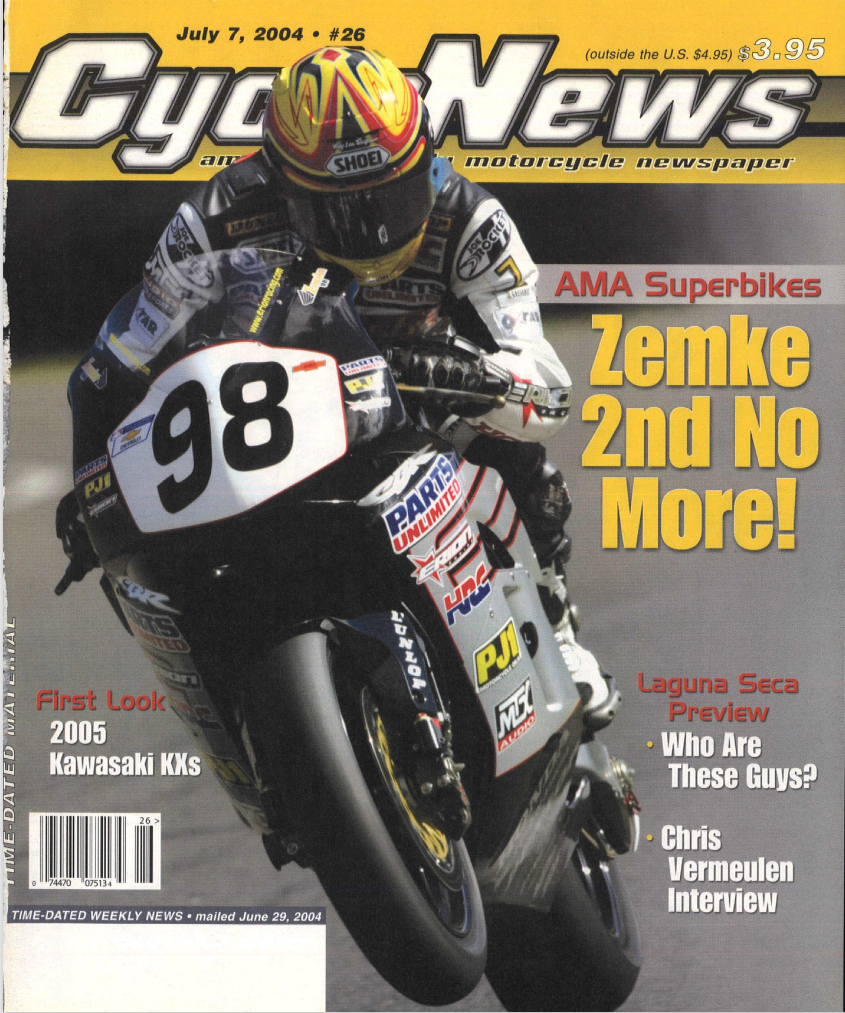 The last time Brainerd International Raceway played host to AMA Superbike racing was in June of 2004 with Jake Zemke notching his first career AMA Superbike victory over Miguel Duhamel and Mat Mladin.
To purchase tickets for all MotoAmerica events, click HERE
For information on how to watch the MotoAmerica Series, click HERE
For the full 2021 MotoAmerica Series schedule, click HERE