The following is the 12th in our "21 In '21" features that highlights one of the 21 AMA Superbike Champions each week as we move through the 2021 MotoAmerica season – the 45th year of the premier class championship.
Doug Polen's riding style was basic and old-school. He sat up tall in the saddle, elbows in, knee out. Compare it with today's exaggerated, hang-off, elbow-dragging style and it looks ancient. But it was more than that. It was methodical, precise and very effective. And it resulted in two World Superbike titles and the 1993 AMA Superbike Championship.
Polen was a definitely a well-traveled "money racer" in his career. He went where the money was and it usually resulted in him coming home with the majority of it. But it didn't always come easy, especially in the beginning, when injury appeared to have ended his career before it really started.
But retirement didn't last. Four years later, the Texan, who was born in Detroit, Michigan, discovered Suzuki National Cup racing and the bags of money he could win partaking in races that featured only Suzuki GSX-Rs.
So Polen started zigzagging across the country in a van and pocketing contingency dough, earning money that most of the factory stars in the AMA Superbike Series couldn't match. In total, he won 45 of 51 Suzuki GSX-R National Cup races and the GSX-R750 Cup final. He also had a Honda buried in the van and would pull that out to make a little extra Honda contingency money when the need arose.
In 1987, Polen started racing in the AMA Superbike class for Kosar Racing, finishing fourth in his rookie season behind Wayne Rainey, Kevin Schwantz and Bubba Shobert. Additionally, he won the 1987 AMA 600 Supersport title.
His seemingly instant success was such that Yoshimura Suzuki snatched him up for the 1988 season and he promptly won titles in both AMA 600 and 750cc Supersport, becoming the first rider in history to do so.
The following year, Polen found himself in Japan where he raced for Yoshimura's parent company and won the All-Japan Formula 1 and Formula 3 Championships. Again, a feat no one else had ever accomplished.
Polen suffered serious injuries while testing at Willow Springs in Southern California in 1990, but he was soon on track again in Japan and he actually won an AMA Superbike race at Road Atlanta before heading to the Far East. Just a minor setback of losing four of five toes on his left foot.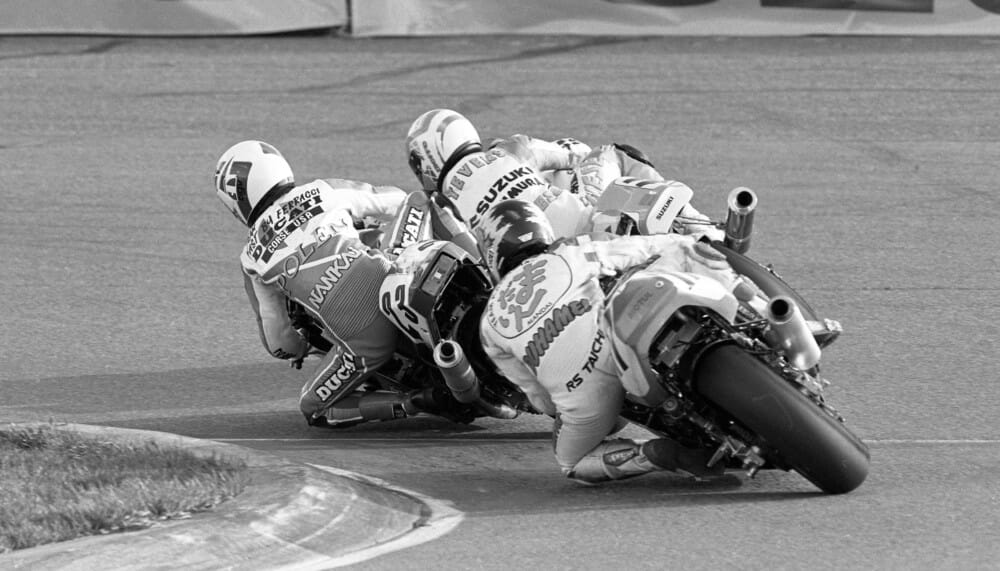 In 1991, everything changed for Polen as he joined forces with Eraldo Ferracci and the Ducati 851. The trio proved to be virtually unbeatable and the Texan stormed to the World Superbike Championship with 10 pole positions and 17 wins in 24 races. He repeated the feat the following year while also finishing third in the AMA Superbike Championship.
Polen's, Ferracci's and Ducati's goals changed for 1993 as they focused their efforts on the AMA Superbike Championship. By season's end, they were AMA Superbike Champions by a healthy margin.
Surprisingly, Polen left Fast By Ferracci to sign with Honda for the 1994 season in the World Superbike Championship, aboard the new RC45. It was a mostly disappointing season for Polen, and he ended up fourth in the title chase. He left the team in 1995.
Polen's career wound down with outings in the World Endurance Championship for Suzuki and in 1987 he won the title with Australian teammate Peter Goddard. The next year he won it again, this time on a Honda with Frenchman Christian Lavielle.
That proved to be Polen's last championship as he retired from racing and started a post-racing career of teaching others the art of motorcycle road racing.
In total, Polen won 13 AMA Superbike races, which places him 14th on the all-time win list. He also won 10 AMA 600 Supersport races, six 750 Supersport races and two Pro Twins GP1 races.