The following is the 20th of our "21 In '21" series that highlights one of the 21 AMA Superbike Champions as we move through the 2021 MotoAmerica season – the 45th year of the premier class championship.
As far as racers go, it's fair to say that Cameron Beaubier is the face of the MotoAmerica Series. After all, his five AMA Superbike titles came under the MotoAmerica umbrella, and the series and the racer basically came of age together. And even though Beaubier is now overseas and trying to adjust to life in the Moto2 World Championship, he still proudly flies the MotoAmerica flag.
Beaubier has five, count 'em, five MotoAmerica Superbike Championships on his resume and 54 Superbike victories, but the road to Superbikes wasn't as easy as you may think.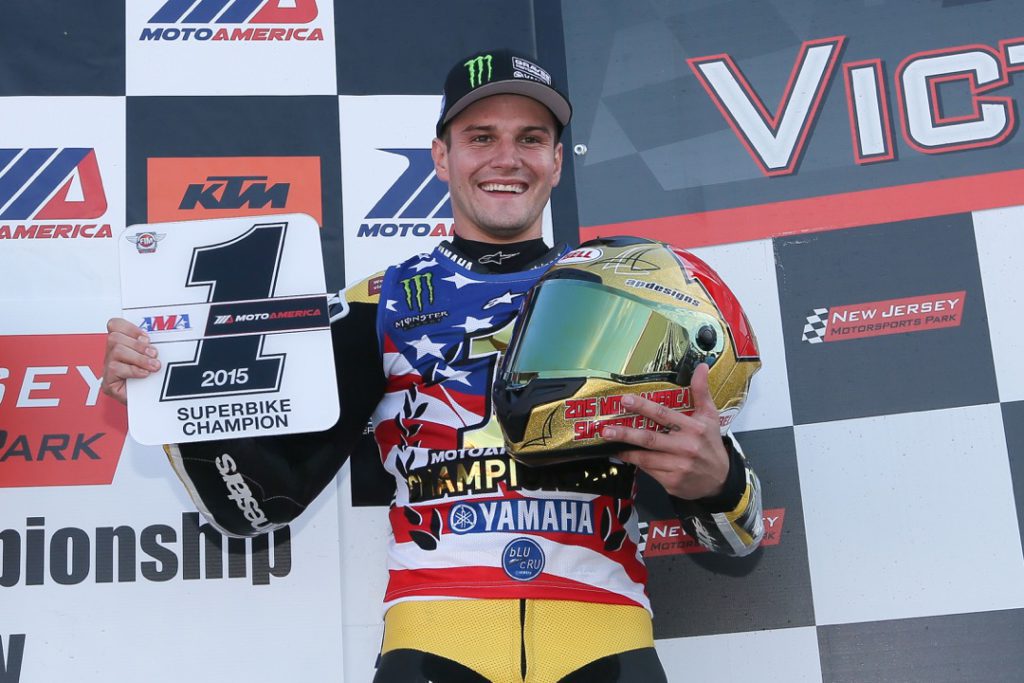 "Man, it was a pretty good journey just leading into Superbike racing," Beaubier said. "I came over here to Europe when I was a kid. After doing some WERA and some club stuff back home, after racing supermoto and motocross growing up. Started dipping my feet into the road race waters and got selected for the Red Bull Rookies Cup in 2007. I was only 13 going on 14 going into the Rookies Cup. I got some results there, and that's where I wanted to be, is racing in the World Championship and stuff like that, and I did. I got in there in 2009 with Red Bull KTM as teammates with (Marc) Marquez. It was a shock for me. I was over here in Europe at 16 years old and just trying to get to and from the track, to or from the airport. My parents, I've told the story a handful of times, but my parents, they have good jobs at home and stuff like that, but I've got a little brother. They couldn't afford to come over to Europe with me and do that whole thing. So, I struggled through that year. It was great, though. Just riding some of the world tracks, racing against the best people in the world, but it was a struggle. The team ended up folding."

At the time, the team folding wasn't a good thing for Beaubier, but in retrospect it most definitely was as it led him back to AMA racing and massive amounts of success.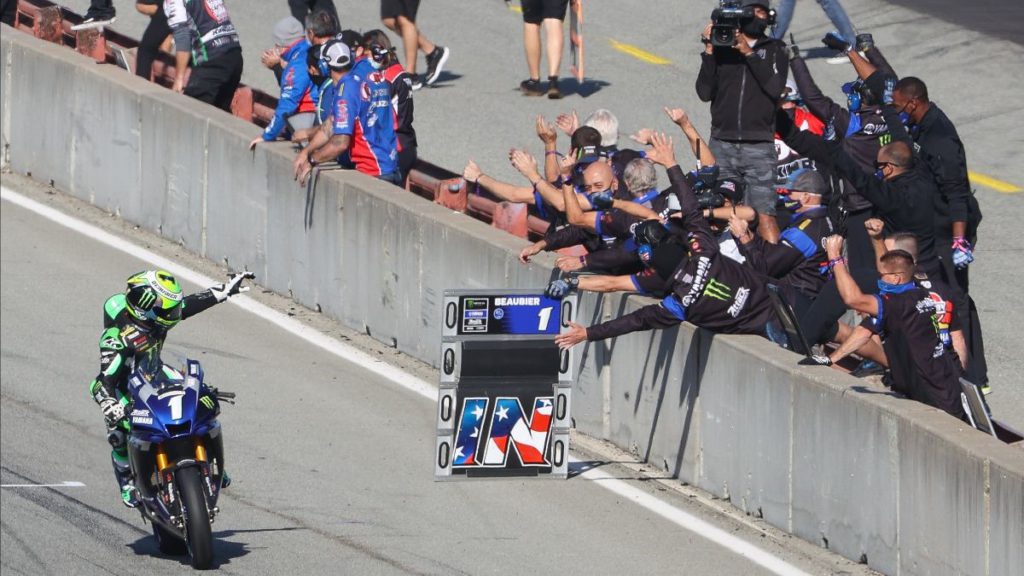 "I couldn't get a ride for the 2010 season, so I came back and started my pursuit in AMA Pro Racing," Beaubier recalls. "That was a few years before they went MotoAmerica. So, I did that. Did some 600 stuff. Ended up doing good enough to get looked at by Yamaha, by Graves. Got picked up in 2012. I started my connection with the Yamaha family there. We got a handful of wins in 2012 after a pretty stupid scooter accident at the beginning of the year that put me out for a couple races. It's funny. I remember riding at Sonoma four weeks after I had full-on knee surgery, just because I was so terrified I was going to lose my ride. I ended up podiuming the first day on Saturday and I literally exerted my body so bad, I couldn't sleep that night. My stomach, my body was just destroyed. Just doing nothing for four weeks and then just hopping on a bike. It's funny, just the whirlwind of how fast all that has gone by. Then a few years later, fighting for my first MotoAmerica Superbike Championship in '15, and going up against the man, (Josh) Hayes. It's pretty cool. It's funny just looking back on all that now."
Beaubier won the Superbike crown in MotoAmerica's first year – 2015. He defended it in 2016, but then he ran into the onslaught of Toni Elias, the Spaniard finding his feet in the MotoAmerica Series in 2016 and taking the title in 2017. That was the beginning of the Beaubier/Elias rivalry and it took over from what was a much friendlier Beaubier/Hayes rivalry.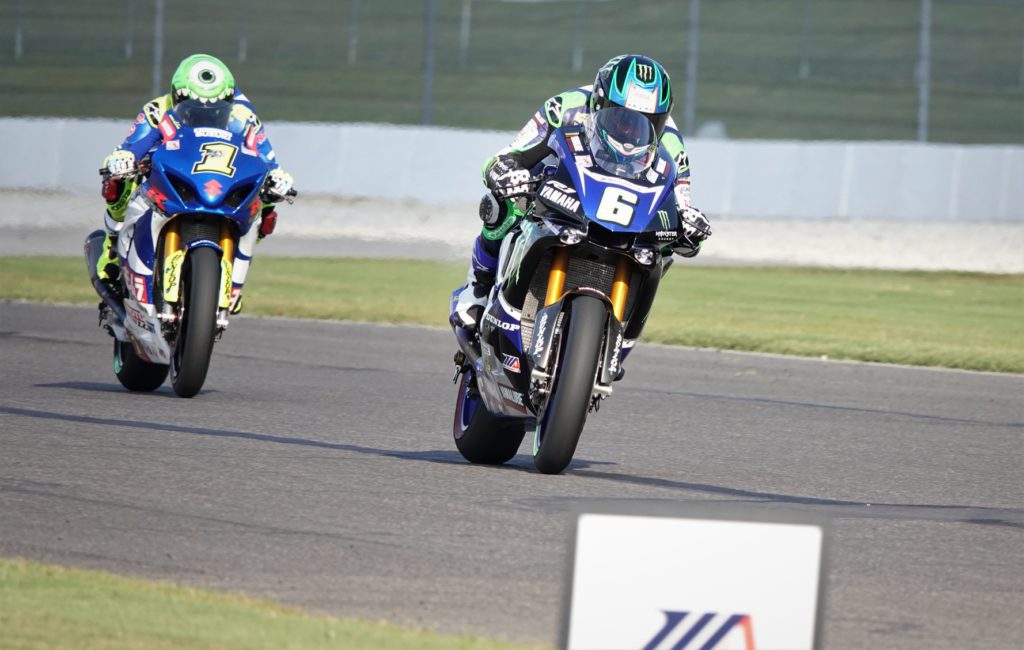 "I'd say that the obvious, just Toni (Elias) and (Josh) Hayes," Beaubier said when asked about his rivals. "It's funny because Hayes and I were on the same bike, but the way our setups were and stuff, they were so different. Then racing Toni, especially the first year he came over here, he was fast just like that. And no one wants that. When you're racing in America, and someone comes over in your championship that you had just won and starts beating up on you… I think he won the first five races. So, that's pretty crazy to look back on. I guess some of the races that stick out to me, like Road America when me and Toni got into it and (Josh) Herrin was right there too. I would say though on a positive note, almost all the Lagunas, or especially the Lagunas (Seca) that have gone well that I've won, like 2016 and 2019, a couple of those Lagunas were just amazing, just because my family and friends were there. We'd go have dinner at night on Cannery Row whenever the streets closed down. I would say, I can't even think of one particular Laguna, but most Lagunas that have gone good are just like the best weekends ever."
The rivalry with Elias was real and it raised the level in the MotoAmerica Superbike class. Elias recognizes Beaubier as a rival like no other and the respect is mutual.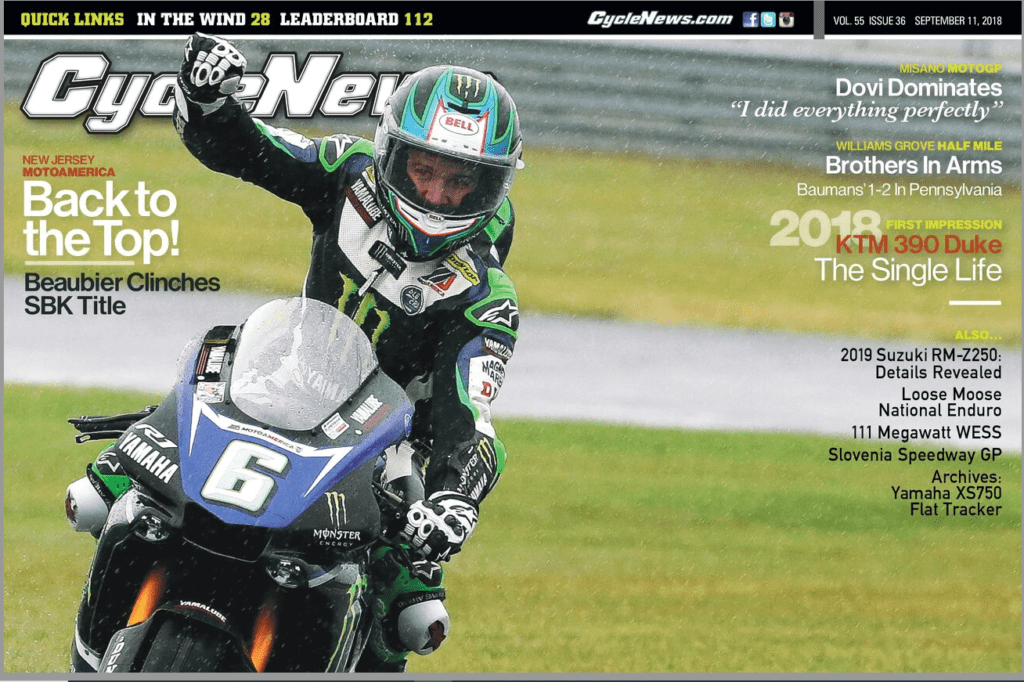 "Yeah, one thing about Toni, too, is there were times that I was half a second to a second faster than him going into the race," Beaubier said. "He was just such a good racer, like he was so good on the brakes. He just maximized what that Suzuki did good. It was so hard to beat him in a straight-up fight. I remember just getting fired up coming back to the truck after some of the races and stuff like that. But then again, on the flip side, when I did beat him in some good battles, it felt so good. Definitely some good ones to look back on."
After winning his fifth MotoAmerica title last year, Beaubier felt the time was right to go back to Europe and the World Championship. He was older, wiser and more worldly than the 16-year-old that was there before. But it's by no means easy.
"I'm still trying to figure it out," Beaubier said. "I'm racing Moto2 over here with American Racing in the MotoGP World Championship. I spent so many good years racing in MotoAmerica and going home after every weekend, but it was time for a change. Coming here, I wanted to get back in the World Championship and see what I had for the best guys in the world. It's been tough. It's been a struggle, re-learning a lot of these tracks and learning a lot of tracks, learning the bike, learning a new team. Even just learning the area where I live in. It's just kind of a whirlwind, but it's been really cool. Obviously, there's been some bummer times, but for the most part it's been pretty cool. It's super challenging. To be honest, I can't wait to get this year over and just bank everything that I've struggled through and all the learning, the learning curve that I've had this year, and just learning everything that I just told you and put it to use next year."